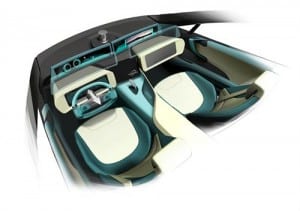 Concept cars are headed toward Las Vegas, Nevada for CES, in January 2016, there will be hybrid sports car "Ʃtos" from the Swiss concept designer Rinspeed, who claims the car will have lots of hocus pocus magic like a Las Vegas magician. The company is devising a driverless car  from the point of view of drivers and passengers. The design includes an intuitive, adaptive autopilot capable of
learning.
The interior adapts to the particular driving situation. In autonomous mode, the steering wheel folds up elegantly and retracts completely into the dashboard. The two curved widescreens individually move closer to the occupants to provide a better view. "
Using Harman Connected Car technologies, the infotainment system acts like a personal assistant, in a thinking, courteous and anticipatory manner.
The hybrid has a drone of its own with landing pad on the rear end. The drone could fetch a bouquet of flowers the drive or take a video of the wild ride on the favorite fun road and stream it live to friends.
The innovative surface finishes in the "Ʃtos" will be of a new textures. Rinspeed designers have developed 22 concept cars from their home-base Switzerland.