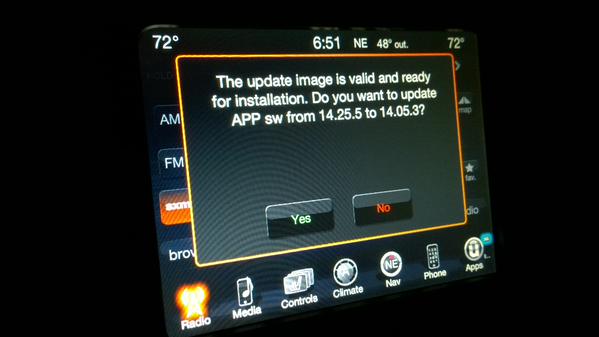 A new report from IHS Automotive, finds that over-the-air (OTA) software updates will eventually be a big boon for the automotive industry.
OTA updates can reduce warranty costs, potentially increase overall completion rates for software-related recalls, improve customer satisfaction by eliminating trips to the dealership for software upgrades or fixes, and provide the ability to upgrade functionality and add features to automotive infotainment systems over a vehicle's lifetime.
According to IHS Automotive estimates, total worldwide OEM cost savings from OTA software update events will grow from $2.7 billion in 2015 (primarily from savings related to updating telematics systems) to more than $35 billion in 2022 (with telematics and infotainment system updates comprising most of the savings).
IHS segmentation for remote over-the-air software updates (SOTA) or firmware over-the-air (FOTA) updates include multiple OTA segments: Map SOTA, Apps SOTA, Infotainment SOTA, Telematics Control Unit (TCU) FOTA and Electronic Control Unit (ECU) FOTA.
Japanese OEMs have been pioneers in navigation map updates in Japan via their telematics systems. BMW, VW and Tesla have all recently announced OTA procedures for updating navigation maps. Hyundai and Ford both have proof of concept systems for OTA map updates, and will also likely deploy such systems in the near term. Total vehicles in operations that are enabled with map OTA updates are projected to grow from approximately 1.2 million units in 2015 to nearly 32 million units by 2022, according to IHS forecasts.
App OTA updates are embedded applications or feature-driven software that is part of infotainment systems such as head-units or telematics systems. This segment is furthest along, with remote software upgrades having been available for several years. The software programs are relatively small in total memory and there are limited associated safety issues; therefore, it is the easiest segment to implement.
Toyota is a leader in this segment using Nuance Dragon Drive, which Nuance acquired from UIEvolution. Both FCA and Nissan have OTA platforms for app updates. IHS expects all major OEMs to introduce app OTA updates by 2019. App OTA update-enabled vehicles in operation total approximately nearly 3 million vehicles in 2015; by 2022, IHS expects that to increase to 53.8 million vehicles.
Infotainment software OTA updates are more complex than software app updates because the programs can be quite large—especially if parts of the OS software need to be updated. Large infotainment software OTA updates may occur over Wi-Fi rather than through LTE 4G service due to mobile network limitations. This category is emerging and will be a growth segment in the next five years, with players like Ford, Chrysler and GM expected to adopt these systems. Infotainment software updates, such as updates to the infotainment OS and user interface, will grow quickly over the next six years, starting from just over 200,000 units in 2015. According to IHS estimates, vehicles equipped with infotainment software OTA capabilities will increase to more than 96.4 million enabled vehicles by 2022.
Telematics control units (TCU) software OTA updates are currently being implemented via telematics systems. OnStar has been updating its latest telematics systems in this manner. Verizon telematics-based systems also have OTA capabilities as this was a core feature in Hughes Telematics' system architecture that Verizon acquired in mid-2012.
IHS Automotive believes Mercedes-Benz has started using OTA in its latest telematics systems. Other OEMs using Verizon telematics systems are likely to deploy OTA in the near future. The companies using embedded app updates are also expected to have TCU updates, as a tethered smartphone can be used as a telematics system. TCU OTA updates is the largest segment in this industry: IHS forecasts nearly 14.5 million TCU OTA enabled vehicles will be on the road in 2015, with an estimated total of nearly 160 million vehicles on the road with TCU OTA capabilities by 2022.
Deployment for OTA updates in the core electronic control unit (ECU) segment is rare and only Tesla has publicly said it is updating core auto ECUs. Tesla has designed its system and ECU architecture with experienced staff from the PC and consumer electronics (CE) industries and has included OTA features in the basic design. It certainly helped that Tesla did not have legacy systems and could start the system architecture with a clean sheet. IHS predicts that there will be about 86,000 vehicles on the road by the end of 2015 with core ECU OTA update support. That is very low but is expected to grow to approximately 25.7 million vehicles in total by 2022.
The OEMs that use software platforms most effectively will be able to save development, maintenance and other costs and will use more reliable software code. In fact, OTA updates have the ability to fundamentally transform the sales and customer retention models for OEMs by allowing these companies to maintain their relationship with customers directly throughout the lifecycle of ownership," " said Colin Bird, senior analyst of software, apps and services at IHS Automotive
Expanded OEM software expertise could have a significant impact on sales retention, customer satisfaction, brand equity and on franchise dealer networks. However, IHS anticipates the ramp up to firmware over-the-air recall based fixes (the service segment in which car dealers could lose substantial revenue) will be slow, giving car dealers and OEMs time to adjust their business models.