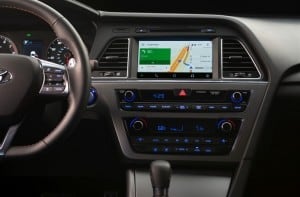 The Android Auto software update is available free for Hyundai Sonata owners with 8″ Navigation systems at MyHyundai.com. The installation will take about an hour and requires the software be downloaded from a computer onto a USB drive.
The Android Auto compatible Navigation system with an eight-inch touchscreen display is available on the Sonata Sport, Eco, Limited, Sport 2.0T and Limited 2.0T models. Owners need a MyHyundai account.
To register for an account owners need their name, e-mail address, zip code and Vehicle Identification Number (VIN).
Select 2015 Sonata on the drop-down menu in the top left of the navigation bar.
Select downloads in the navigation then the Android Auto downloads drop-down.
On the Android Auto downloads page, the owner must agree to the terms and conditions to activate the download button.
Once the download button is active, clicking it will start the download.
Once the download is complete, the owner opens the downloaded file and selects run.
Upon completing the download, the download tool will start.
At this point, the owner connects a compatible USB driver to their computer.
The download tool will automatically extract the downloaded files and put them on the USB drive.
A confirmation screen will appear when the download is complete.
Vehicle Software Update steps:
Park the car in a well-ventilated area and start the engine.
Connect the USB drive with the vehicle software on it to the USB port in the Sonata.
Press the setup button near the radio controls.
Scroll down and tap the System Info icon on the touch screen.
Tap update at the bottom of the touchscreen.
The Software Update will begin automatically.
Enable Android Auto. Navigate to Connectivity Settings in the Setup menu to find the enable Android Auto on/off switch.
In order for Android Auto to work the phone must have Android Lollipop installed. There were issues with some popular models, however they have been corrected. Samsung Galaxy S5/S4 owners may have to install a security update.
Connect an Android Auto compatible phone to the Sonata via a micro USB cable and download the Android Auto app when prompted. Tap the Android Auto icon on the touchscreen and Android Auto is ready.
The software is also available for free at Hyundai dealerships nationwide. Hyundai is the only automaker to have Android Auto on production vehicles today, starting with the Sonata and soon expanding to other models.