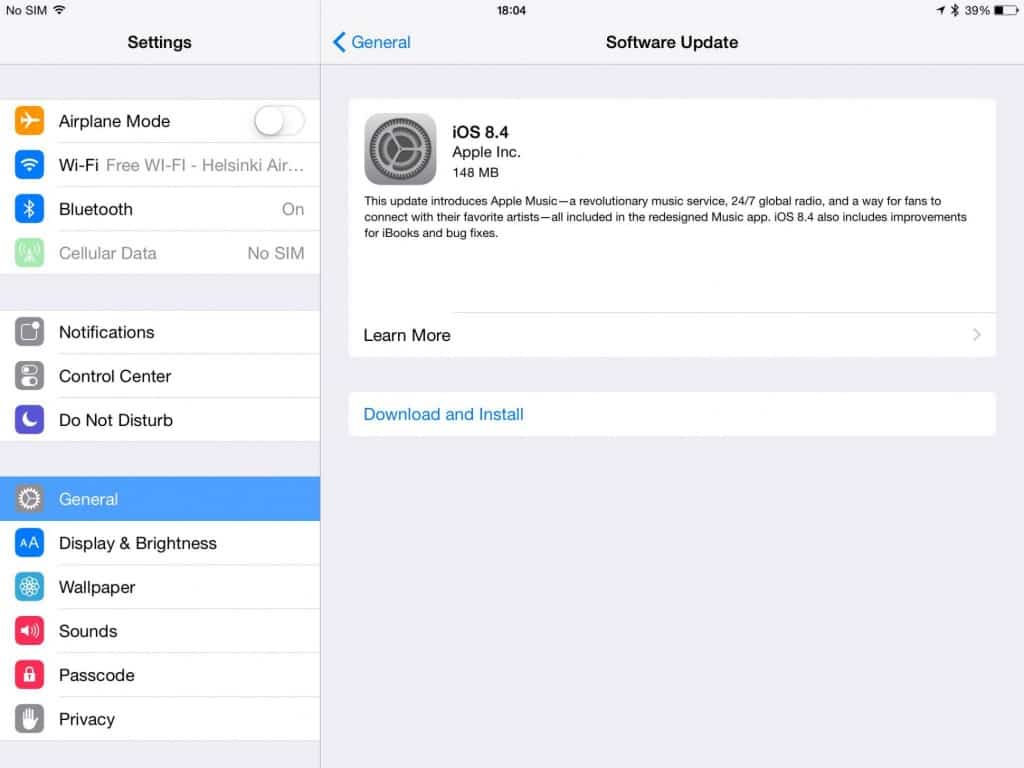 Since the introduction of iOS 8, car owners have been battling dropping Bluetooth connections, no Bluetooth connections and even problems playing music via USB ports as well as functionality loss such as lack of text messaging or other features. Recently, Apple released the iOS 8.4 update and it seems to help with a few car infotainment systems.
The main reason for the update is the new Apple Music that is found in the redesigned music app. The update also includes "improvements and bug fixes. Apple Music in theory should work with in-car systems too. Since the update, it has been revealed that there are changes in HomeSharing that no longer enables iPhones, iPads and iPods to stream audio from computers on the same network running iTunes.
It seems like every new update adds new problems. In fact now, forum members are reporting Bluetooth problems with the recent update to 8.4 with some being able to resolve it by going to settings, general, reset and reset all setting, which is the original "Nuke-it-fix" we seen before.
We also discovered a new fix we have never hear before what we call "off your Handoff," in June that worked for a few commenters.
We've seen the following problems with iOS 8.4
Inability of music to sync in iTunes.
Driver can make phone calls through Bluetooth but unable to play music.
Unable to pair iPhone 5S with iOS 8.4 with car or headphones after resetting the iPhone.
iPhone resets after playing one song with Bluetooth connection.
Music previously loaded on the iPhone from iTunes is gone as well as playlists. Some have been able to restore playlists from computer backup.
One of readers "Ray"  stated that the update to iOS 8.4 solved his issues with a 2012 Hyundai Elantra playing music through a cable connected to the USB port. Has the update helped you, too?
Apple is expected to release iOS 9 in the fall. We suspect there will be even more Bluetooth issues with in-car infotainment systems.
In our last roundup of fixes it seemed like some automakers had updated their infotainment system software and it is available for download online. A new problem arose with music streaming skipping like a scratched CD.
Previously, some found that nuke-it fix sometimes helped re-pair Bluetooth connections and in-car systems.
If you have updated to iOS 8.4 for iPhone 5/5S/5c 6-6+ and it fixed or fried your Bluetooth issues or music streaming with your in-car infotainment system, please let us know in the comments below, be sure to note your make, model and year of your vehicle. We also welcome any solutions you have found worked with your car.

We have comments from readers that there are still Bluetooth problems reported with BMW, Audi, Acura, MINI, GM(Chevy, GMC, Cadillac, Buick), Honda, Kia, Toyota, Volkswagen, Mercedes-Benz, Mazda, Lexus, Fiat, Hyundai, Chrysler, Acura, Mazda and more.
Previously, after talking to many automakers we asked Why Bluetooth iOS 8-8.1 & iPhone 6-6+ issues persist in cars? It seemed like the 8.1 update helped with a few new model cars. Here is a summary of Bluetooth issues and fixes and checkout the most popular nuke-it fixes.
We received good and bad news about iOS 8.2 when it was first launched.
You are welcome to sign up for our newsletter for daily news, weekly news or just Bluetooth iOS 8+ news to keep informed. Note: if you subscribe to email when published, you will get everything and don't have to subscribe to other lists.