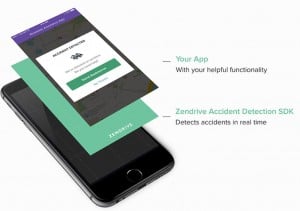 Zendrive, a service that uses the smartphone sensors to measure driver behavior, announced that its Zendrive Accident Detection SDK can now be used by developers for apps to alert emergency responders, tow truck drivers and families to car accidents. The records kept by Zendrive may also mitigate insurance liability in the future.
Zendrive warns that 90% of accidents result from human error and 30% result from phone use. They claim that hardware solutions are limited to car diagnostics while Zendrive uses smartphone sensors and software to understand driver behavior.
Zendrive's analytics uses a variety of signals, cell phone use, speed, swerves, hard stops, fast accelerations, fatigue, as well as weather, trip duration and time of day. It is the hopes of the company that Zendrive Accident Detection improve road safety.
The technology was developed by monitoring phones in crash-tests and on the road. The company tested and refined models in accidents and events such as hard brakes, phone drops that were not accidents. The software has a 100% accuracy rate with no false positives or false negatives.
BMW gave Zendrive access to its accident testing facilities. Zendrive Accident Detection will be available first for iOS iPhone apps while an Android version will be available soon.
The service is now available to developers. ZenDrive Accident Detection will be programmed into some smartphone apps and automotive devices.
Urgent.ly, the roadside assistance app that lets customers track the progress of their tow truck on a map will add Accident Detection. Urgent.ly's app will detect if customers are in accidents. The app will then ask them if they need emergency or roadside assistance and connect them to the nearest available help. 
eDriving digital driving education and behind-the-wheel training through integrates Zendrive Accident Detection into its apps.
Luxe mobile valet parking  service will pick up and park cars anywhere in San Francisco and LA, soon Chicago, Seattle and Boston will incorporate Accident Detection to reassure customers that their car is always in good hands. ZenDrive will keep a data record if there is an accident and help keep the valets driving safely.
HopSkipDrive is a ride service to help parent get their kids where they need to go when parents can't. HopSkipDrive offers a 15-point certification process and plans to ensure immediate responses to any event or parental need.
Pioneer will use ZenDrive Accident to help keep its customer's safe and offer new services such as combining insights about driving behavior with interactive hardware for safer driving.
Human, activity tracker iOS app has integrated Zendrive to improve tracking of driving habits.
The Distpatch platform for on-demand services and tracking will also integrate Zendrive Accident Detect.
Zendrive claims it makes driving better, safer, and more efficient for  through improved data and analytics.
Accident Detection in ZenFleets service is free through June 15.
Industries that could use the service include driving schools, roadside assistance and towing companies, car dealerships, and other connected car features.