Verizon is still taking pre-orders for its Verizon Vehicle service and is giving away the Bluetooth speakerphone and connected OBDII port device for free with a two year contract. As an added bonus the first two months are free upon signing up for the service.
The service was announced by Andrés Irlando, CEO of Verizon Telematics  and Erik Goldman, president at Verizon Telematics at the North American International Auto Show in Detroit who claimed that Verizon Vehicle is re-inventing roadside assistance with the power of knowing. The product was scheduled to launch April 10 according several industry sources. It looks like the service is now delayed.
"We expect Verizon Vehicle service will be available this year," Marie McGehee, spokeswoman for Verizon Enterprise told AUTO Connected Car News.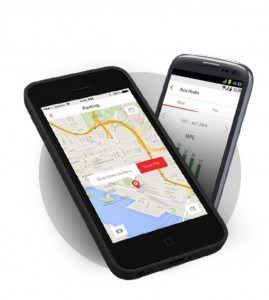 Verizon Vehicle is a monthly service that offers vehicle diagnostics, live assistance with GPS and connections to mechanics to diagnose potential problems and offer solutions. If drivers need assistance, the built-in GPS identifies their exact location, and a tow truck driver or other help can be dispatched when necessary.
Verizon Vehicle is helpful when you lose your car, the service includes car locator, parking meter timer/reminder and stolen vehicle location. Verizon offers a companion smartphone app for information and support services in the palm of your hand.
"The great things about our service that you get a number of services and various ways to connect," added Marie McGehee.
Members can get notifications via phone, text, push notification or email if a potential issue is detected with their vehicle. The speaker gives one-button push connection to the member care group, the mechanics hotline and roadside assistance — as well as a second button for SOS emergency situations.
Currently, when you order the service, Verizon will waive the two month's charge then charge $14.99/month, and $12.99/month for each additional vehicle, plus applicable taxes. There is a ETF if the equipment is not returned.
Verizon Vehicle downloads data from the vehicle's on-board diagnostic system and is compatible with most vehicles built since 1996.
Verizon Vehicle offers discounts for travel and automotive services.
Emergency roadside assistance for Members of Verizon Vehicle is provided by Signature Motor Club, Inc.