Today is April Fools' Day and most automakers are not fooling around with technology. Kia will offer CarPlay and Android Auto in the 2016 Optima. BMW added iHeart radio to its ConnectedDrive Platform. The Chevy Malibu has teen training and monitoring technology. The Cadillac CT6 has a bigger screen and multiple controls while the Chevy minicar has the latest Chevy MyLink software. The Jaguar XF will have three different screens for its tech features.
The only automaker that was a fooling was Honda and its faux selfie-edition campaign.
Kia Optima Opts for Android Auto and CarPlay
Kia announced that the 2016 Kia Optima will have Android Auto and Apple CarPlay through a USB port. Android Auto requires Android Lollipop and CarPlay iPhone connections require iOS 8.x. The Kia Optima will have an 8″ touchscreen. Music, messaging, navigation and voice calls are available via the screen, steering wheel controls or by voice commands.
Six-speaker audio systems are standard in the Optima or there is the option of the Infinity Premium Audio System, which includes 14 speakers, Clari-Fik technology and an upgraded 630-watt digital amplifier.  Clari-Fi rebuilds audio signals that are lost in digital compression.
iHeart Radio for BMW & MINI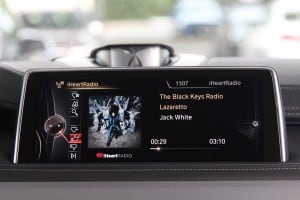 BMW ConnectedDrive and MINI Connected services will have access to iHeartRadio for iPhone iOS users through the iHeart for Auto App that is certified by BMW for safe in-car use. The iPhone is connected through USB port or snap-in adapter the launches the app. The driver can operate the app via the iDrive Controller/MINI Controller, the Control Display/MINI Center Instrument and the car's audio system. Features include, access to iHeart Radio stations, recommendations, favorite, browsing and Thumbs up or down.
BMW Group recently increased the security of data transmission in its vehicles in response to reports from the German Automobile Association (ADAC). At CES in January, BMW announced its in-vehicle store.
New Malibu 2016 Teen Tech Driver Safety Features
The 2016 Malibu will offer a Teen Driver feature. It gives parents access to their kids' driving statistics, such as maximum speed, miles driven, alerts and when safety features such as Forward Collision warning and Braking. Teen Driver warns the teen driver with audio and visual alerts when s/he drives above certain speeds. The parents set up the feature with a PIN in the Chevy MyLink system and registers the teen's key fob.
When a teen driver is driver, the car mutes the audio or any device paired with the vehicle when front-seat occupants aren't wearing their safety belts. Audible and visual warnings are activated whent he car driving faster than allowed by the parents.
Cadillac Screens More Touch and Controls
The Cadillac CT 6 has a 10.2" 1280×720 pixel front touchscreen with both touchpad and console buttons. Driver's can feel their fingers on the tactical screen. Data can be input with handwriting recognition. To relieve road stress the CT6 offers comfort seats with 5 massage settings and a 34 speaker Bose audio system.
Jaguary XF Goes for Bigger 10.2″ Screens and HUD
The new Jaguar XF tech features include a brighter, lighter laser head-up display with more contrast. The 10.2″ display that can show two video feeds at once. Jaguar InControl Touch Pro, iPhone and Android connectivity, and 17-speaker, 825W Meridian digital surround sound. The 12.3-inch TFT instrument cluster can be customized with themes and navigation.
There is 10GB of the 60GB solid-state drive storage for media. Gracenote shows the media details.
Jaguar offers InControl Apps, InControl Remote and Wi-Fi hotspots. The system runs a quad-core process and the Ethernet is 1Gbit/seconds fast to allow for future upgrades.
Jaguar's justDrive free voice command app that works with text Spotify, Twitter and Yelp was released at the LA Auto Show. InControl Apps include Stitcher, iheartRadio and Parkopedia.
Spark Mini-Sized Screen
The mini-sized new 2016 Chevy Spark will the have the Next-generation Chevrolet MyLink system with 7′ color touchscreen, icon-based user interface and Wi-Fi hotspots.
Added new ADAS features on the 2016 Spark include Forward Collision Alert, Lane Departure Warning, Side Blind Spot Alert and standard rearview camera.
Honda Self Promoting Selfie HR-V
Honda used social media to launch the bogus HR-V SLF with ten different selfie cameras.  Other crazy Honda April Fools' pranks were in 2013 with the Honda Hair trimmer and a DIY car building kit also launched April 1 in 2014.
Some news outlets reported the selfie-mobile as real. Honda even offered a display at the New York Auto Show. Some reporters didn't think it was funny because a self-obsessed Selfie-driving car seems too plausible.