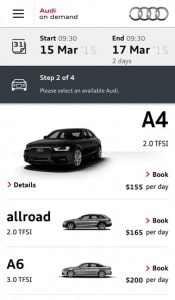 In Germany, Amazon via DHL delivers packages in Audi trunks. Now people who want to drive an Audi can order cars from an iPhone app, select features and have it delivered directly to them. Audi on demand allows reservations for Audi cars by the day for up to 28 days in San Francisco to start and will be rolled out to other cities in the future.
The first level of rental costs start at $155 a day for the A4, $165 for allroad, $440 for the RS 5 the on up to R8 Spyder for $1,285 for 24 hours.
A concierge delivers the car and shows the customer how to use the car as well as set music preferences and then navigation system.
The Audi can be started or opened with the on Demand app or via a personal key card. No membership fee is required. The Audi can be retrieved from a driver or accessible private parking space or any location request or at an Audi on demand garage.
All Audi on demand rentals come equipped with Premium Plus trim,  as SiriusXM satellite radio and MMI Navigation plus, as well as quattro all-wheel drive.
Options also include child safety seats, ski racks and bicycle racks e for the Audi allroad and Q5. A waiting list is now open for the service.
The Audi on Demand service is not a leasing program like the Audi car-sharing pilot in Europe this program is pay as you go.
Not included are the cost of fuel, parking while using the vehicle, and damages not covered by insurance. There's a mileage cap of 200 miles per day for Audi S7, A8, S8, R8 Coupe, R8 Spyder, and all RS models. The price per additional mile over 200 miles per day is $0.50 for the Audi RS5, the Audi S7, the Audi A8 and S8, and $1.00 for the Audi R8 Coupe and R8 Spyder.
On the landing page of Audi on Demand it states "The customer is responsible for insurance," which could be confusing. There are more details about insurance on the FAQ page.:
"What costs are included?
The listed daily reservation price of the vehicle you see in the app varies depending upon whether you choose personal insurance, corporate insurance, or extra insurance within your profile. If you choose personal or corporate insurance, your daily reservation price includes the cost of the reservation, delivery and return services, cleaning and refueling services (fuel not included), FasTrak tolls, unlimited mileage for most of our models, and optional equipment such as child seats and bike racks, if needed. Extra insurance may be obtained through Audi on demand from an authorized insurance company at an additional cost. If you choose extra insurance, your daily reservation price includes all of the above plus the cost of the extra insurance. For a detailed list of costs included in your reservation, please refer to your Rental Agreement and confirmation email.

Audi on demand offers access to comprehensive extra insurance from an authorized insurance company and a Loss Damage Waiver (LDW). For residents of the United States we also offer the possibility to use your personal or corporate insurance. For other details about insurance, please consult your Rental Agreement. If you would like more information on Audi on demand insurance options, please call +1 877-506-AUDI (2834), and a member of the Audi on demand Team will be more than happy to assist you.

What does the extra insurance include?

If you purchase extra insurance through Audi on demand by an authorized insurer, the insurer will provide auto liability and physical damage coverage up to $1,000,000. In case of an incident, you may be responsible for the deductible of up to $1,000.

What is the loss damage waiver?

The Loss Damage Waiver (LDW) reduces your responsibility for damage to the Audi vehicle to zero, if you conform to the terms and conditions of the Rental and Membership Agreements. You may have a high deductible for collision and comprehensive on your personal or corporate policy. In this case, you may elect to purchase a LDW. If you elect to accept the LDW and extra insurance, Audi on demand does not require you to have personal insurance coverage for the vehicle. However, if you choose personal or corporate insurance you must maintain any state-required minimum liability insurance."
Another new option coming from Audi will be Audi at Home in Miami a personalized micro-sharing experience.The Audi is located at exclusive condominium complexes, residents use their smartphones to access a car share service with Audi RS models, cabriolets and SUVs. Also expected to be shared is the  Audi A3 Sportback e-tron, plug-in EV.