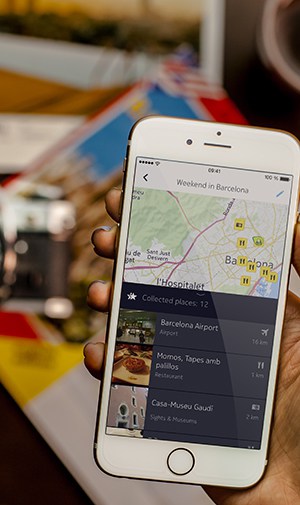 HERE, a mapping navigation app with offline maps, navigation and search, is now available to download for free from the App Store for iOS 7 and iPhone 4S-5/5c/5S-6/6+.
Features of HERE includes maps for 150 countries(downloadable), voice turn-by-turn driving or walking navigation for 188 countries without an Internet connection, public transit, route planner and real-time traffic for 40 countries.
With HERE  you can store maps on your iPhone so that they're always available and you don't have to wait for them to load or be dependent on signal. It also saves on roaming and data charges as well as reduce battery drain.

The route planner lets users determine if transit, walking or driving is a better route. You can save places ahead of time with Collections, which you can create and view on any HERE app iOS, Android, Windows, or on the web at here.com.
The new iOS HERE app was built from the ground up.  In order for HERE to work best you have to login to your account.
According to comments the feature to listen to voice directions over Bluetooth in the latest version.
"HERE has leading capabilities in the field of digital maps and location, and making them available through free apps to as many people as possible will not only help in growing its reach to consumers, but will also have benefits for other parts of HERE's business. In both automotive and enterprise markets, people's familiarity with HERE services will help build a platform for success in the age of the connected car and the internet of things," said Nitesh Patel, Director, Wireless Media Strategies at Strategy Analytics.