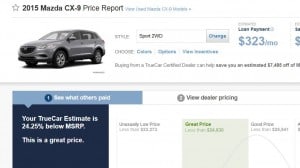 Over the weekend, we heard from a TrueCar user who said he got the best price on the car he configured directly from the TrueCar website. TrueCar can lead to great savings. For example, TrueCar is keeping tabs on the prices of popular Japanese automaker models including Nissan, Toyota and Mazda. We're beginning to like price data more and more. The data does not lie, March is a great time of year to get a discount from a Japanese automakers.
TrueCar reports that March has had the highest average new vehicle sales volume of any month over the past five years. March is when the fiscal year closes for Japan-based automakers and the start of spring sales events. Historically, the last day of March has been the best opportunity to get the largest discount. It makes it good time to get more for you dollars and maybe get the high-tech infotainment or safety packages.
Because Japanese automakers are closing out their inventory competitors are also reducing prices to compete. Since its the Chinese year of the Ram it seems fitting that the Ram 1500 pickup truck with an average discount of 14.3% is a good deal.
The  "TrueSavings" reports the best deals for car buying savings. Some of the cheapest best deals and discounts TrueCar found are.
Recently, competing car dealers have formed a class action lawsuit against TrueCar. We have been asking our readers to let us know in the comments if they have good experiences and great prices from TrueCar.
TrueCar noted that the deal information summarized above is provided for illustrative purposes only, and is not an offer to lend. Results may vary depending on your individual circumstances, including credit approval by dealer/manufacturer. Deals are subject to change and are limited to inventory on hand. See your dealer/manufacturer for details, including actual offers available in your region.