There are many new announcements from the Geneva Motor Show. Announcements included a new multi-modal Ford Focus RS, OnStar for Opel vehicles, Nissan autonomous driving by 2020, Audi Q7 e-tron special tech specs, new HARMAN  infotainment features and Glympse for autos in Volkswagen or Peugeot vehicles via MirrorLink.
Multi-Mode Ford Focus RS
Ford's all-new Focus RS debuts the Geneva Motor Show. The driver can select four different Drive Modes — Normal, Sport or Track settings – or a special Drift Mode.
The all-new Focus RS is the first ever RS model that will be sold in North America and will be produced for all markets at Ford's Saarlouis, Germany, manufacturing plant beginning late this year.
SYNC connectivity provides access to audio, navigation, climate control and mobile phones via voice control, and via a high-definition, 8-inch color touchscreen. Simple voice commands such as "Find a race track" enable RS owners to get instant directions to the nearest public circuit. SYNC also can be specified with Rear View Camera with park distance control, as well as a Sony premium sound system with 10-speakers including a subwoofer.
Open Opel OnStar Free for a Year
Opel OnStar to be launched in 13 European markets this year.Car occupants can automatically connected with emergency specialist after crash detection. Drivers have acces to 4G LTE Wi-Fi hotspot, stolen vehicle assistance, smartphone app. An added bonus is a free trial of Opel OnStar and Wi-Fi for 12 months.
Nissan Sways to More EVS and Concept Cars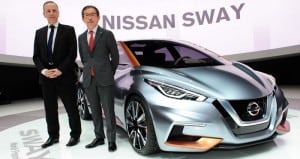 Shiro Nakamura, Senior Vice President and Chief Creative Officer held a press conference in Geneva revealing the latest Nissan developments in front of the concept Nissan Sway. The Sway is a glimpse at how a future generation of compact Nissan models might look if the company's design language was applied to a European hatchback with a gliding wing dashboard.
Nakamara said that in Japan and the US, Nissan testing with its new partner NASA, and aim to make full autonomous driving available by 2020.
This year, Nissan will celebrate the LEAF's fith birthday. With over 160,000 on the road.
The the Nissan LEAF is the best-selling Electric Car, globally and in Europe. Nissan also oofer the all-electric eNV200, with both van and passenger vehicle versions. A seven-seat Evalia model is making its debut here at the Geneva Motor Show. Nissan will continue to improve EV batteries with the ultimate aim of offering a driving range that is comparable to conventionally powered vehicles.
Audi Q7 e-tron quattro with Electric Info and Tablet
Debuting at the Geneva Motor Show, the new Q7 e-tron quattro combines a TDI engine with lithium-ion battery technology for a potential range of up to 876 miles and 34 miles on electric power alone
The new Audi Q7 version includes phone box charging, Wi-FI, charging display and MMI touchpad. It features an instrument cluster with a 12.3-inch diagonal screen. The driver can retrieve different levels of information, including specific e-tron displays such as the power meter. The large display makes it possible to switch to a conventional tachometer or to display it simultaneously with the power meter. The instrument cluster also shows the energy flow, the range (with numbers and graphs) and the charge level of the battery.
The infotainment system is powered by the Tegra 30 graphics chip from NVIDIA. Operation is by voice, with the multifunction steering wheel or with the completely newly developed MMI terminal, the MMI touchpad. On request, Audi will integrate the MMI all-in-touch, the touchpad with haptic feedback.
Audi has added specific items to infotainment for displays in electric mode including consumption stats, electric range and time control of air conditioning.
The standard Audi connect component links the Q7 e-tron quattro to the internet using the fast LTE standard. Additonal an Audi tablet, which serves as Rear Seat Entertainment is available.
More Autonomous Audis
Ricky Hudi an engineer at Audi, reported at the Geneva Motor Show that the next-generation Audi A8 auto-piloted driving system will be called "Traffic Jam Pilot" for autonomous driving at 37 to 49 mph. The piloted Audi A8 will use data from mounted 3D cameras, radar, and infrared sensors.
HARMAN OTA Harmony & Secure HMI
HARMAN is demonstrating the first connected navigation solution based on the Navigation Data Standard that updates map data over-the-air at the Geneva International Motor Show.
HARMAN's system supports a HTML5-based application environment with enhanced security delivered through hypervisor-based domain separation. Critical vehicle functions are protected from errant or malicious software. HARMAN's system architecture also supports the latest car apps and platforms, such as Apple CarPlay, Google Android Auto and MirrorLink while protecting the integrity of the infotainment system against cyber security threats.
HARMAN will demonstrate Road Noise Cancellation (RNC) that minimizes unwanted low frequency broadband noise that is transmitted from road surfaces into the vehicle cabin through tires, suspension, and vehicle body components with ant-noise signals.
Also on display is HARMAN's Individual Sound Zones (ISZ) technology  that enables drivers and passengers to create sonic zones between individuals, HARMAN's premium scalable infotainment platform and Aha Cloud Services.
Back in the USA New Glympse of Glympse for VW and Peugeot
Glympse location sharing technology, announced the latest version of the company's flagship app Glympse for Autos. Glympse all announced its technology will be integrated into select Volkswagen and Peugeot models via MirrorLink.
With Glympse for Autos, users can share location from their vehicle by from the app in a connected car, setting the recipient and timer, and hitting send. The new app was designed with car safety in mind, and it includes large buttons so the driver can quickly send their location and then set off on their way. The contact will then be able to see the driver's ongoing, real-time location on a map. As with all Glympse apps, the driver determines how long they would like their location to be available — up to four hours — and it automatically expires once the timer is up.