CeBIT a major international computer trade show is taking place in Germany from March 16 to 20. There are some interesting concepts and announcements from the show in Hannover, Germany for the future of connected car technology.

The expo is app and car oriented starting off with the  "CeBIT Navigator App" from Volkswagen that allows users to find the fastest way to CeBIT.
Heads Up Display from Hudway for $49
Russian company, Hudway maker of an app that projects the smartphone screen on to the windshield is showing the Hudway Device. The device displays even better maps on the windshield than the Hudway app that uses a smartphone on the dash that does not show clearly in all weather and light conditions.
The Hudway Device shows augmented reality information projected on the windshield in front of driver's view. The route is graphically represented on the windshield. The AR projection is clearly visible against the sky or snow on a sunny day or in complete darkness because brightness automatically adjusts according to the light level.
Besides roads and traffic information, Hudway Device offers the ability to make calls, text message, 3rd party app integration, voice control and enhanced communication. Hudway claims the AR images don't obstruct the view.
Co-founder and CEO Ivan Klabukov told CNBC that company is going to the sell the device through crowdfunding site Kickstarter for $49 allowing a price point that brings Heads-up-displays to the masses.
The Hudway amplifies the contents of the smartphone screen onto the windshield using a 3D-printed screen. The company is also working on its own mapping software to sell to automakers.
SemVox Vocalizes Dialogues
Drivers of a connected car have an increased demand for comfortable and intuitive control options to enhance their safety and minimize distraction. SemVox offers intelligent voice control technology to allow in-vehicle services and functions can be controlled via voice.
SemVox can conduct an intelligent dialog with the driver and proactively assists them.
The system is able to understand the driver's intentions, to contextualize and can even deal with incomplete or unclear input. This unique ability allows users to formulate their requests in an intuitive, natural way.
SemVox Example:
SemVox: "We will be passing Neuschwanstein Castle on our way to Munich. Do you want to plan a visit to Neuschwanstein?"
User: "Hm… is it a long detour?"
SemVOX: "It is a detour of 10 kilometers from the planned route."
User: "Ok, let's stop at Neuschwanstein!"
SemVox: "I have started the route guidance to Neuschwanstein."
The functions can be personalized to provide an even more individual user experience. New services and functions can be integrated or exchanged.
Sideguard Guards Trucks Starts Up Safety
Active Sideguard is a new blind spot accident avoidance device for heavy trucks, using electrostatic sensors technology for detecting cyclists and pedestrians. A group of partners plan to start a business to bring it to market. The company is made up of Tremend automotive safety software, Exia Belgium (a technology spin-off of the Vrije Universiteit Brussel, Department of Electronics and Informatics) and iMinds VZW B
Keep on Trucking with 3D Ergonomic Seating
Daimler Trucks is presenting "Ergonomics Simulation in Trucks" as part of the ARVIDA project (Applied Reference Architecture for Virtual Services and Applications). The goal is to address the ergonomic needs of the truck driver at an early stage in the development process of a truck cab.
The cab of a truck is where the driver works, lives and sleeps.  Mercedes-Benz use virtual tools to check features of the car such how simple it is to climb into the cab, whether all the necessary controls are within easy reach and how convenient the driver's bed is to access.
CarInPhone Instead of Phone in Connected Car?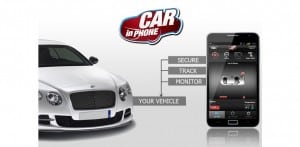 CarInPhone is a smart security system for the price of an ordinary one.  CarInPhone lets drivers always know where the car is now and were it was. It also allows the driver check doors and alarm statuses in a smartphone app.
CarInPhone can turn on the heat on cold mornings, blink lights and even block the engine if the car is stolen. The CarInPhone security system has an integrated anti-jammer.
CarInPhone can work also with factory security systems and all types of vehicles. Apps are available for Android and on iPhone.
Infotainment on a Stick
Infotainment on a Stick (IOAS) from Cybercom, Poland is a vehicle infotainment product concept.
The initiative is suggested for the automotive industry in which the infotainment is programmed into a smart drive/stick and then gets replaced in a couple of years. The stick similar to a TV stick or Amazon Fire stick.
Each time a Driver/Customer changes their mobile phone there high risk occasion to lose the connection to drivers. The automaker then needs to make sure that they download and install their apps again which is the case with the latest iOS 8.2 update and Bluetooth in-car connections.
Cybercom believes that the IOAS concept is an excellent solution for many OEMs and/or vehicles segments but not for all. It will co-exist with pure embedded systems, CarPlay, Android and MirrorLink solutions or maybe we see a mix of all.
The IOAS concept could boost value of used car sales, be a localized offering, be specialized for fleets or taxis and allow for aftermarket sales.
Tesla Motors is showing the Tesla S.