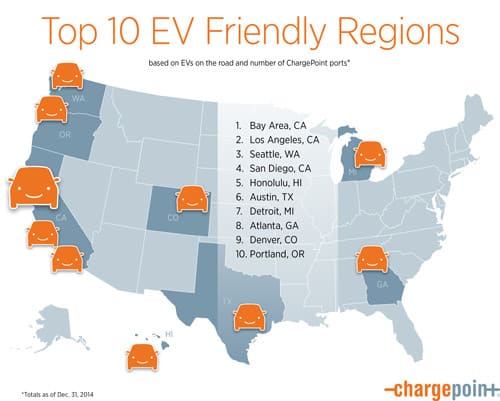 ChargePoint released the top  EV-charging friendly cities in the United States. The San Francisco Bay Area (including San Francisco, Oakland and San Jose) led the pack, followed by Los Angeles, Seattle, San Diego and Honolulu.
ChargePoint scored the cities based on the number of EVs on the road and the number of charging stations available on the ChargePoint network as of December 31, 2014 and also took into consideration the population in the area.
Although Los Angeles leads the nation in terms of registered EVs (57,000) however the San Francisco Bay Area takes the lead after accounting for population differences (more than 48,000 EVs). New to list are Atlanta and Denver.
2014 ChargePoint's Top 10 EV-Friendly Metropolitan Areas
San Francisco Bay Area, CA
Los Angeles, CA
Seattle, WA
San Diego, CA
Honolulu, HI
Austin, TX
Detroit, MI
Atlanta, GA
Denver, CO
Portland, OR
2013 ChargePoint's Top 10 Metropolitan Areas for Electric Vehicles
San Francisco Bay Area, CA
Seattle, WA
San Diego, CA
Austin, TX
Honolulu, HI
Los Angeles, CA
Portland, OR
Detroit, MI
Washington, DC
Boston, MA
ChargePoint recently updated its mobile app with more information about charging sessions including:
Miles added in your current session based on your car model.
Cost of your charging sessions.
Time that you've been plugged in.
Amount of energy your car is drawing in real-time.
A list view of all your charging sessions on the ChargePoint network.
ChargePoint also fixed some bugs in the app.