JVC and Kenwood are the part of the same company and they both have launched new receivers for the new year. New models feature the ability to play music from apps, better Bluetooth and sound quality.
Kenwood CarPlay and Android Auto Premium
Kenwood announced the new DDX 9902S with both Android Auto and Apple CarPlay. The DDX 9902S features USB, built-in control for Pandora and iHeart Radio.The receiver also features an MHL-compatible HDMI input and is upgradable to support Wireless HDMI.The DDX9902S is a premium multimedia center. Bluetooth integration enables safe phone calls and wireless music from a paired smartphone. An MHL-supported HDMI input connects to iPhone 5 and 6 models, as well as select Android-based smartphones, to charge the device, control compatible on-device apps and play its audio and video content on the receiver. Built-in control of Pandora and iHeartRadio expand music choices when using a smartphone's broadband connection.
The DDX-9902S is also SiriusXM-Ready and connects to the latest SiriusXMSXV300 Connect Vehicle Tuner. The MSRP and ship date of the DDX9902S will be announced soon.
Kenwood Super Double DIN with Mapping by Garmin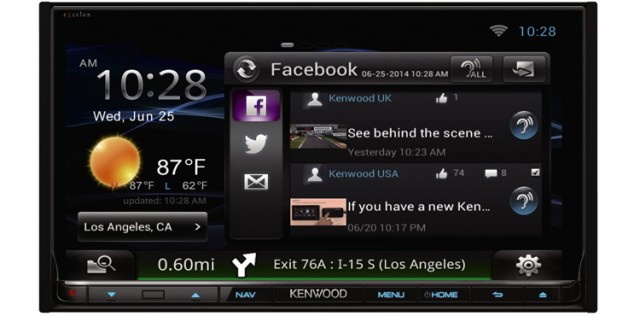 Kenwood announced the successor to its popular DNN991HD connected receiver, The DNN992 double DIN receiver. It  improves upon last year's model with updated mapping software by Garmin, parking guides for a connected rear-view camera and better source multitasking.
The DNN992 uses its Wi-Fi connection or broadband access via connected smartphone to deliver next-generation, drive-centric data. The built-in navigation system is bolstered with information from INRIX, including weather.
The DNN992 keeps users safely connected to email, social media contacts and scheduled appointments. Built-in browsers work with a user's Facebook and Twitter accounts, letting the user send and receive updates via voice.
Features include a 7″ touchscreen, connections for two cameras, SirisuXM-Ready, HD Radio, CD/DVD/microSD slots , dual USB ports for iPod, iPhone or USB storage and HDMI/MHL for Android. The DNN992 will ship in January with an MSRP of $1,400.
KW-V51BT with Better Bluetooth, Android and Siri Eyes Free
JVC that is part of Kenwood announced the KW-V51BT with better Android smartphone integration and Siri Eye Free mode for iPhone. The JVC Smartphone Control  has been simplified and allows smartphone apps to be displayed and controlled on the receiver's screen. The KW-V51BT is fully compatible with most factory steering wheel audio controls.
The KW-V51BT now offers higher-quality audio playback using Bluetooth. Equipped with the latest hands-free profile, the KW-V51BT drastically expands the audio spectrum that can be transmitted over the air, resulting in better voice quality for phone calls and better noise reduction.
A direct HDMI/MHL cable connection lets Android users view and interact with apps and video from the phone using the radio's larger display. iPhone users enjoy a similar experience with JVC's App Link Mode for iPhone, which allows compatible iPhone apps to work on the radio's screen.
When connected to smartphone the unit can play Pandora Internet radio or iHeartRadio content. Dual video inputs enable the addition of a rear-view camera to enhance driving safety, as well as an optional source. The KW-V51BT's Dual Zone feature lets the driver select different sources to play on the dash monitor and connected rear-seat monitors. The KW-V51BT will carry an MSRP of $569.95 and is expected to ship in March.
Kenwood noted that Bluetooth technology has been upgraded to the latest profile in equipped receivers to elevate quality of phone calls and improve accuracy with voice recognition and playback. Additional equalization presets give the user more options to tailor their favorite music, and parametric equalization enables precise system tuning.
Kenwood has a new products in the eXcelon Series including oversized subwoofers, marine speakers, and amplifiers equipped with Bluetooth.
KD-R960BTS Entry Level Upgrade to Bluetooth, iPhone/Android Audio
JVC Mobile's new KD-R960BTS single DIN CD receiver is designed to update late model cars. It features Bluetooth, connections to steering wheel controls, can play music from late-model Android smartphones or iPhone models via USB, or any other device that can accommodate its front-mounted 1/8-inch audio jack.
When connected to an iPhone or using the JVC Music Play app with an attached Android smartphone, the receiver controls the device to make audio selections and access device-specific features. With Siri Eyes Free Mode, a dedicated button on the panel activates Siri on a connected iPhone, allowing the driver to call contacts or make information requests by voice and get audible results through the vehicle's speakers.
The KD-R960BTS is currently available from select retailers with MSRP of $139.99.
Easy Upgrade JVC Recievers
JVC new receivers include the KD-R760 (MSRP $109.95), KD-R860BT (MSRP $129.95) and KD-R960BTS (MSRP $139.95) single-DIN units.  All feature playback of music from both iPhone models and Android-based smartphones over USB, letting users charge their phones and access more control options through the radio. The KD-R860BT and KD-R960BTS are compatible with the JVC Smart Music Control App (available through Google Play), which allows control of many of the radio's features from a smartphone.
Voice interaction is a primary safety feature on the KD-R860BT and KD-R960BTS. Both models incorporate Bluetooth technology to enable hands-free calling with an included microphone, as well as music playback over Bluetooth from a compatible device. For iPhone users, Siri Eyes Free Mode provides a wealth of information access without the distraction of reading the phone's screen. All models feature built-in apps for iHeartRadio and Pandora via smartphone data.
For Android playback over USB is the KD-AR565 (MSRP $104.95) The KD-AR765S (MSRP $119.95) adds access to Pandora and iHeartRadio through a connected iPhone, and is SiriusXM-Ready.