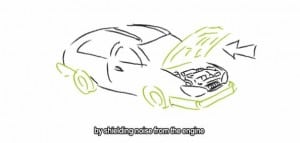 BayerMaterial Science worked with Volvo and its parts suppliers to create  dual system polyurethane hoods that help protect pedestrians and reduce engine noise.
People traveling on foot in traffic live dangerously, especially in Europe, where the European Commission reported about one-fifth of all traffic fatalities in Europe involve pedestrians.
The Volvo Car Corporation found a way to soften the blow for pedestirans by using Bayer polyurethane systems that give a soft "landing" in the event of impact with the hood.
The engine hood is elastic. It crumples to reduce the effects of impact. Volvo also takes other measures to ensure pedestrian protection such as pedestrian air bags.
Volvo Car specifications included greater pedestrian safety, dampening of engine noise that could be efficiently processed.
Bayer MaterialScience Oldenburg with parts manufacturer Promens Zlin and Volvo Car, developed a material solution based on a combination of new grades of its Baytec® and Bayfit® polyurethane systems.
The three partners cooperated throughout the entire development process,
The spray elastomer Baytec enters the mold first for stability and smooth surface then Bayfit foam is added to the same mold to effectively dampen engine noise.
The sandwich structure of the polymers is elastic and represents a great advancement in pedestrian protection.
The engine hoods come in silver or black. Production of the silver-colored parts begins with the application of an in-mold coating. In the same mold.