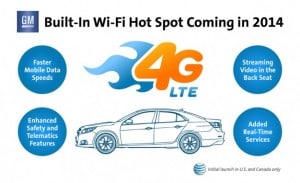 AT CTIA Super Mobility Week, AT&T and Ericsson announced key points from its connected car research proving that people want AT&T connections in their cars. The report alsos a very high awareness of connected car features. We have a call out to our AT&T contacts to track down the full report. In the meantime, here are the bullet points.
Many execs from AT&T appeared at Super Mobility Week, Ralp de la Vega appeared on connected car panel with Mary Chan while new cars with 4G LTE were announced. AT&T also announced it single GSMA SIM a week after AT&T announced it latest connected car platform.
Customers' awareness of connected these six features scoring 50 percent or higher.
Roadside Assistance (74%).
Navigation and Real-time Traffic (72%).
Remote Start (71%).
Streaming Music (70%).
Usage-based Insurance Tracking (52%).
Wi-Fi Hotspot (50%).
AT&T and Ericsson found that:
Half of all drivers surveyed worldwide would switch brands to a comparable brand to get connected car services.
lmost 66% of drivers surveyed after learning about connected car services consider them an important feature in their next car.
Sixty-seven percent of U.S. drivers indicated they would probably or definitely buy connectivity or Wi-Fi service if available in their car.
72% of drivers would delay a car purchase by one year to buy a car with connected car services from their preferred brand.
Ericsson is a key contributor to the AT&T Drive platform, providing a cloud-based platform on which automakers can choose to run their entire, customized connected car experience.  The full research report is available to automakers through the AT&T Drive Studio.