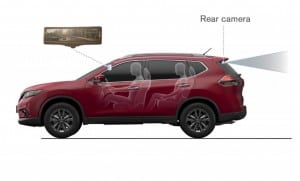 The Nissan Smart Rearview Mirror is smarter than your average mirror.  It uses a special camera to make the view of what is behind the Nissan, clearer, better and safer.
In fact, the Nissan Smart Rearview Mirror won the 2014 Traffic Safety Achievement Award.
Nissan claims the Smart Rearview Mirror is  the world's first LCD monitor that not only provides clear rearward visibility under various conditions, but can also switch between the LCD monitor and the traditional rearview mirror.
With traditional glass rearview mirrors, the view can be blocked by tall backseat passengers, head rests, luggage /packages stacked high  or  the design of the car. By using a high-res camera in the back, the rearward visibility free from these blocks as well as traditional blind spots.
The camera projects a clear image onto the monitor, giving the driver a better view of conditions behind the vehicle.
The Smart Rearview Mirror can also display a clear image in a variety of other annoying and view-clouding circumstances:
Images with minimal glare, even during sunrise or sunset conditions
Clear images when being followed by a vehicle with strong headlights.
Visibility during nighttime driving and at dawn and dusk are also improved.
Nissan is planning to introduce the Smart Rearview Mirror to global markets in the near future after an initial rollout to Japanese customers in the Spring.
A 1,300,000 pixel narrow-angle camera was developed so that picture quality would not be sacrificed when formatted for the specially designed monitor. An LCD monitor with a unique aspect ratio of approximately 4:1 was also developed.
Nissan recently demonstrated the technology at the 2014 New York International Auto Show.