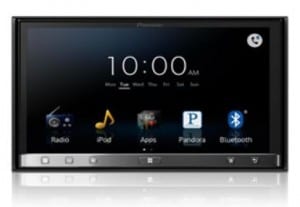 Although there has been no official word from Pioneer electronics after Apple's CarPlay announcement. There have been rumors suggesting that Pioneer is working on after market CarPlay solutions.
According to MacRumors a customer rep told a reader.  Pioneer makes in dash audio systems and is known for its App Radio devices, recent models launched at CES range from around $350 to $500.
Pioneer was recently awarded Best of Innovations, In-Vehicle Audio/Video, as at 2014 CES Innovations Design and Engineering Awards for its AppRadio 3 (SPH-DA210) smartphone-connected in-dash receiver for great smartphone connections. Although the list price is $500, you can buy it from Amazon for  much less.
AppRadio includes voice control for Siri Eyes Free and Google Voice Recognition, a revised graphical user interface and Bluetooth audio streaming. Systems already can use either Google Maps or Apple maps from a smartphone.
Many Pioneer units are MirrorLink and compatible with both iPhone 4/4s/5/5c/5s devices and select Android OS smartphones. Apple 30 Pin, Lightning, USB and HDMI are some of the connection types that AppRadio supports. Usually, you have to buy the connector/adapter.
The smartphone connectivity cables range in suggested prices from $60 to over$100 for iPhone 5 adapters and connections(some Apple adapters you have to buy separately). Some in-head units are using HDMI as standard however, since Pioneer already has a relationship with Apple, it may not be long wait for after market CarPlay head unit.
Remember that many aftermarket audio system makers also make units for the major car manufactures.  Therefore although CarPlay most likely will be available exclusively at first with a new car purchase, we are pretty sure that after market players will be offering CarPlay connections.
Apple's approval system may be slow and expensive.  Some people we have talked to have noted that Apple requires a special co-processor for devices to work with Apple products.  We believe that making CarPlay connections will be more expensive but will be readily available in the future.
Have you ever wondered why, you can't get a very cheap iPod/iPhone dock?  Apple has to approve the docks, has very detailed specification and also requires a co-processor.  At CES we learned that Apple does not allow music dock makers to make docks with both lightning and 30 pin connections, customers have to buy separate units.  You can also void your iPhone or iPod  warranty by using an after market non-Apple-approved adapter.