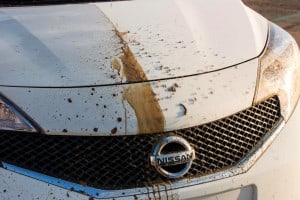 Nissan in Europe is testing new paint technology that repels mud, rain and everyday dirt called a self-cleaning car. It could mean that drivers will say chuck-it to their buckets and sponges.
A European Nissan Note with super-hydrophobic and oleophobic paint effectiveness is being by engineers at Nissan Technical Centre Europe in many conditions.
Nissan is the first carmaker to apply Ultra-Ever Dry that stops standing water and road spray from making dirty marks on the car's surface.
The paint is working well with the usual suspects rain, spray, frost, sleet and standing water. It  may become an aftermarket option for Nissan.
From the photos it looks like dirt doesn't stick, but may require some dusting or to has be blown off the car.