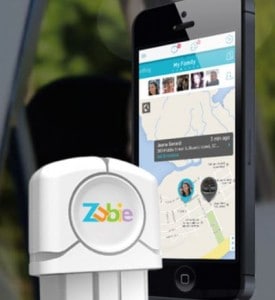 Connected car OBII device and app maker Zubie  has partnered with iControl Networks. Together, they plan to offer home automation through cars and  smartphones seamlessly.
Zubie lets family members know when you are your own way home or share locations with fellow Zubie users.  Zubie connects to the OBII computer port on cars.
It also features onboard diagnostics.  The app on a smartphone with connections to device lets you know what the trouble codes mean, estimates car repair cost and what issues have to be fixed for smog checks. Zubie monitors when the battery is low or not charging. Zubie also offers insight to better driving and trip history. The Zubie device sells for $99.95 with annual service costing $99 a year.
AlwaysSmart delivers a total picture of car and driving activity even when the car is not running. iControl enables customers to automate their home, manage home monitoring /security by checking security cameras and sensors, locking and unlocking doors, turning on and off lights, and control temperature .
By connecting Zubie to iControl  features that can be activated include turning on the lights, heat/ac or unlock a door upon arrival.
Zubie's home dashboard shows  real-time display the location of family members on the road.
Zubie's Chief Technology Officer, Ari Silkey will present at SXSW when  Ari Silkey will discuss the integration of connected car and connected home on  Sunday, March 9, at 11:30 a.m. CST (during SXSW) during #developersgarage
Competitors to Zube include Automatic and dash App (with any Bluetooth OBII connector).
Zubie users should note that on Sunday March 9, 2014 is the next change in Daylight Savings Time.  As the change over in clocks occurs you may notice that some of your trip start and stop times within the Zubie App are off by an hour.  As the wireless carrier network updates complete throughout their network, the issues will be resolved.  No action is needed on your part.