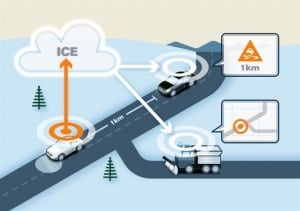 Volvo Car Group has many connected car features in the works –  magnetic sensing vehicles, cloud sharing of road hazards and sensors for cars to get to know their drivers while offering help or accident prevention.
Magnetic Pathways Lead to be Driving Near North Pole
Volvo and the Swedish Transport Administration test magnets on road to sense positioning for self-driving autonomous cars. GPS and camera sensing have limitations under certain road conditions especially snow and ice, however, magnets can are unaffected by weather.
The study found ferrite magnets are an efficient, reliable and relatively cheap solution, for infrastructure and on-board sensor technology.
Magnets cold also be useful for:
Magnet-based positioning in preventive safety systems could help prevent run-off road accidents.
Magnets could facilitate accuracy of winter road maintenance that could prevent damage to snow-covered objects, such as barriers and signs, near the road edge.
Road space and lances could be designed narrower with more accurate positioning.
Road Dangers Shared via Cloud to Other Vehicles
Volvo Car Group (Volvo Cars), the Swedish Transport Administration (Trafikverket) and the Norwegian Public Roads Administration (Statens Vegvesen) have partnered in a pilot project in which road friction information from individual cars is shared within a cloud-based system.
Real-time data about slippery patches on the road are used to warn vehicles nearby, at the same time as it contributes to making winter road maintenance more efficient. When the Volvo test car detects an icy or slippery road patch, the information is transmitted to Volvo Cars' database via the mobile phone network. An instant warning is transmitted to other vehicles that are approaching the slippery area, making it possible for the drivers to take immediate action to avoid a critical situation.
Getting to Know Your Car and Driver -Wake Up Calls
Volvo is researching how sensors that detect how the driver is feeling. Systems  can recognize and distinguish whether a driver is tired or inattentive, making a much safer car.  A sensor on the dashboard monitors, which direction the driver is looking, how open their eyes are, as well as their head position and angle. Then that data can be used to develop precise safety systems that detect the driver's state and are able to adjust the car accordingly. The system can stop a drowsy driver from stray at of a lane when falling asleep. Features that can be put into the system are Lane Keeping, Collision warning with auto brake and Adaptive Cruise Control.
Eye Controlled Lighting
By monitoring eye movements, interior lighting and exterior lights could be adjusted. The seat position, height and distance from the brakes could be adjusted when the car recognizes the driver.
Volvo is also conducting research  with Chalmers University of Technology and Volvo AB to identify effective methods for detecting tiredness and inattention.