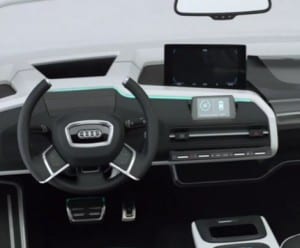 In Hannover, germany at CeBIt, Volkswagen CEO Prof. Dr. Martin Winterkorn showed James 2025 as the car cockpit of the future.
The comfy virtual cockpit allows drivers to relax and lets the car drive itself through a few buttons on the dash. When the car is in automatic driving mode, the head unit screen system shows the car's planned driving maneuvers while a second screen gives access to infotainment functions. The steering wheel moves away. At any time like when an airplane is using auto-pilot the driver can take over driving the car.(see video below)
WinterKorn noted that current VW and Audi cars are already mobile computer centers, with 1.5 kilometers of cables, more than 50 control units and the computing power of 20 highly advanced PCs.
Also at CeBIT, Volkswagen Commercial Vehicles is showing "eT", an electrically powered postal delivery van that automatically follows its driver along the edge of the road using assistance functions.
Porsche is exhibiting a Panamera with hybrid powertrain and Audi a hybrid A3 e-tron2. MAN demonstrates the way vehicles and IT are growing together with a telematics app. This optimizes the routes of trucks and informs the drivers about vehicle data.