Vote for the 2016 Tech CARS Awards from AUTO Connected Car News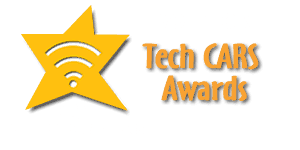 Welcome to the voting area of the 2016 Tech CARS ((Technology of Connected Autos Rated Superior) Awards from AUTO Connected Car News, the people's choice by car technology fans and industry insiders. With our case the popular vote always wins. There is no electorate. The more votes, the better.
We started voting a little later than usual therefore voting will be extended to 11:45 pm January 31, 2017.
Please sign-up for our newsletter to get daily emails of connected car news and information about the nominees.
The competition is tough this year with some very interesting aftermarket safety devices and new vehicles on the scene.
Read about all the nominees.
This year, we have 13 categories which are:
Best New Connected Car Product to Help Connect to Smartphones  & Other Features
Best Car Buying or Selling App Experience or Mobile Web
Best App or Mobile Website for Finding Car Repair Info Prices and Quotes
Best Connected Car, New Mobility or Tech Celebrity, Analyst or Spokesperson
Edsel Yugo Award for Biggest Snafu in 2016
Best New Hardware/Software Solution for by OEM Supplier for Autonomous Driving
Best New Mainstream Electric Vehicle or Plug-in Hybrid Vehicle: Winner
Best New Luxury EV,  Hybrid from a new automaker (Competing Tesla Style)
Best Supplier of Telematics Solutions for Insurance, OEMs or Consumers: Winner Annoucement.
Overall Best Implementation of Any New Car Tech to Make Lives Easier or Better.
Best Automotive Tech Chipmaker- Winner Annoucement.
Best Deployment of ADAS Features by an Automaker.
Best Connected Car Tech Trade Show, Event, Expo, Symposium or Expo
Each category allows for a write-in candidate. New for this year is the ability to make a comment about your choice. We will publish the most interesting, funniest and most articulate comments when the winners are announced.
Nominees please follow the rules and permissions' guidelines for usage of nominations or winning.
Other industry awards, charge for entries, use celebrity judges or may be swayed by advertisers. The Tech CARS is truly a people's choice award with voting open to anyone who has a connected device with a web browser. There is no fee for entry. Voting ends January 31, 2017 at 11:45 pm PACIFIC TIME.  If you are interested in fresh up-to-date connected car news subscribe to our newsletters.