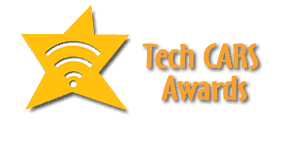 Nominees and winners of the AUTO Connect Car News' Tech CARS awards who mention that they are nominated or a winner must link back to AUTO Connected Car News, preferably the home page.
The awards are offered free of charge, however, we have to pay for voting software, time, reporting and other expenses.
Logos are available and can be adapted to your colors, size, file format or design for a small fee (JPG, PNG, AI, GIF, etc.) Use of the AUTO Connected CAR News' Tech CARS Awards name or logo must be approved for by our permissions group, which generally approves most mentions as long as they are well written and link back to AUTO Connected Car News. Please use graphics that look nice with your colors.
You may use any of the logos below unaltered.